Evora sits on 42 acres within the heart of southwest Las Vegas. The master plan will have 1,343 residential units, approximately 240,000 square feet of commercial space, subterranean parking, and resort-style amenities. EVORA will be built in four consecutive phases.
Evora is just minutes from the Las Vegas Strip and McCarran International Airport. Our location in the rapidly growing Spring Valley community is just half a mile from the 215-Beltway and lies within range of several corporate headquarters, regional hospitals, the University of Las Vegas Technology Park, and the Raiders football stadium.
To launch our Live-Work-Play experience we are offering customizable suites on the second and third levels ranging from 2,000 to 40,000 square feet. Enjoy views of the Las Vegas Strip and mountains, access to a multitude of onsite amenities from restaurants to a state-of-the-art fitness and recreation facility, fiber-optic gigabit internet, and underground parking. Smaller suites are available on the first level.
The building provides a touchless entry system, operable windows, outdoor balconies, and an air ionization system that captures and destroys viruses, mold, pollen and other contaminants.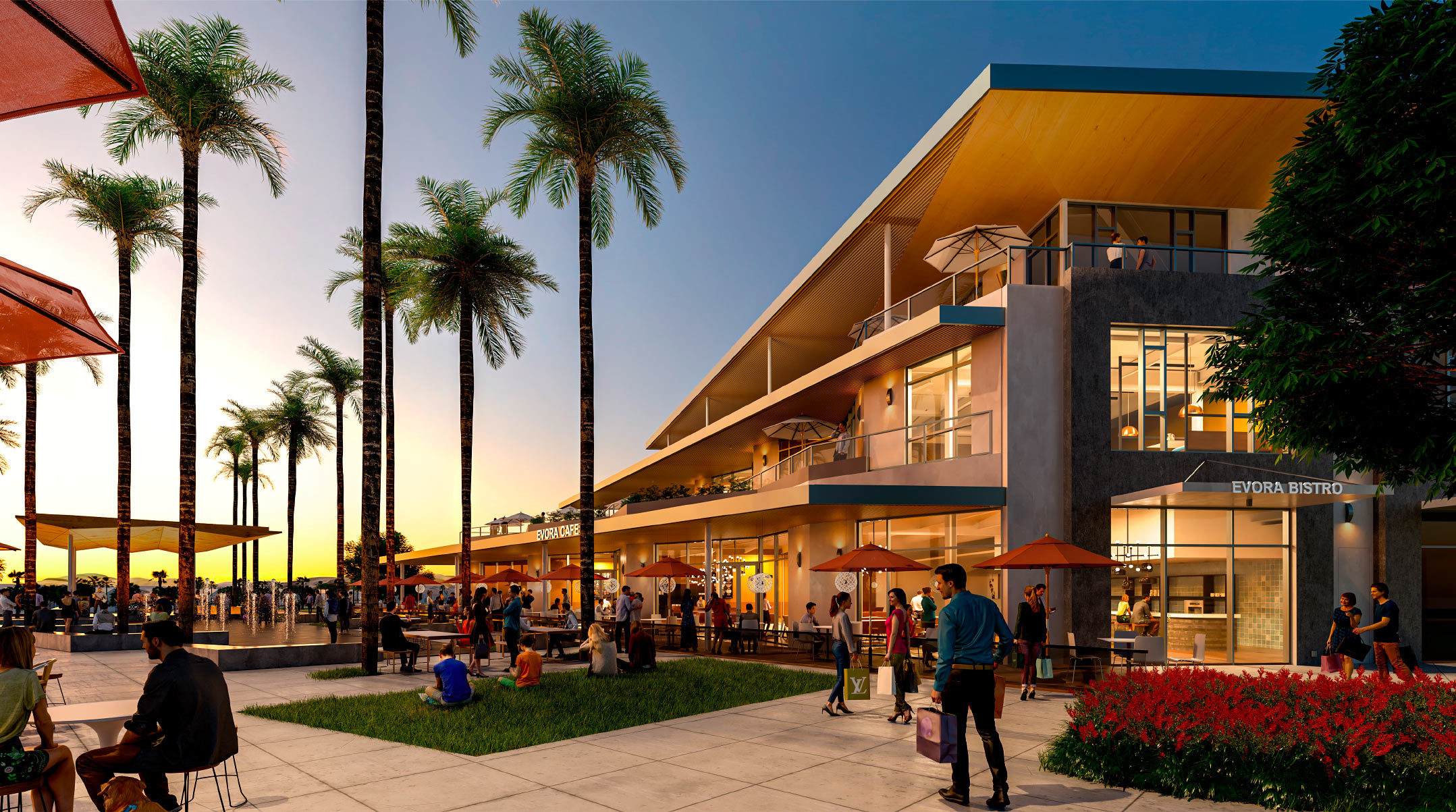 The first level of the commercial building is dedicated to restaurants, retail stores, a boutique café/grocery store, and onsite security. Customizable suites ranging from 700 to 5,300 square feet are available on the first floor. All suites will have access to our campus-wide WIFI, package lockers, and reception desk. Evora's 1.5-acre public plaza, performance pavilion, and 1-mile perimeter walking trail will be open to the public, increasing foot traffic and curb appeal for commercial tenants.
Evora's master plan will eventually include a fitness and recreational facility featuring resort-style offerings to all members. Exceptional gym space, spacious spas, locker rooms, saunas and steam rooms, jacuzzis and pools, a yoga studio, health lounge, basketball court, pickleball and tennis courts, and much more will all be part of the facility. Our amenities will provide an extraordinary experience you won't want to miss.
456 Residential Units
118,000 SF Commercial Space
Public Park
Mountain Views
Views of the Strip
1,343 Residential Units
240,000 SF Commercial Space
5+ Acres of Open Space
EVORA Construction (October 2022)
EVORA Construction (April 2022)
EVORA Construction (December 2021)
Evora Construction (June 2021)
Evora Construction (September 2020)
Restaurant, Retail & Office Space